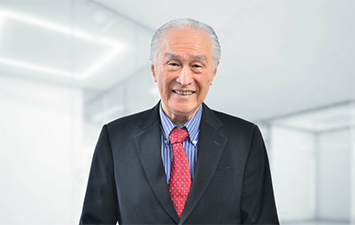 Tan Kai Hee
Founder, Group Chairman
Mr. Tan Kai Hee is one of the founders, main policy and decision-makers of the Company. Mr. Tan, a well-known businessman, has more than 40 years of commercial experience in the trading business.
Apart from managing the Company's business, he is also an active social worker involved in community work for the past 40 years. Mr. Tan is the founder of the Malaysia-China Friendship Association (PPMC: Honorary Life President, Malaysia-China Chamber of Commerce (MCCC: Honorary President), Malaysia-China Culture & Arts Association (PKKMC: Advisor), and Vice President of China-Asean Business Association, Malaysia (CABA). Mr. Tan is also a Founder and Honorary President of Tan Kah Kee Foundation and an advisor to the Federation of Chinese Physicians and Medicine Dealers Association of Malaysia (FCPMDAM).
In 2014, Mr. Tan has sponsored the formation of Yayasan Usman Awang, a non-profit organisation which honours the literary works of Malaysian National Laureate Dato' Usman Awang.
Mr. Tan was appointed to the Board of Hai-O Enterprise Bhd on 30 August 1975 and was appointed as Group Executive Chairman on 1 February 2016. He was appointed and re-designated as Non-Executive Chairman in Beshom Holdings Berhad ("BESHOM") on 12 November 2021, following the establishment of new investment holding company of Hai-O group of companies in tandem with the transfer of listing status from Hai-O to BESHOM pursuant to the Group's internal reorganisation exercise.
He is a Director in Hai-O Raya Bhd and also holds directorship in several private limited companies.